No Mobile Coverage, No Worries!
ZOLEO™, satellite communicator is extremely affordable, and perfect for anyone who wants to stay connected and secure when travelling beyond mobile coverage. Using global Iridium® satellite network and is designed to withstand harsh conditions, the compact ZOLEO device connects via Bluetooth® with a free companion app on your own smartphone/tablet. The app offers a familiar interface for seamless global messaging to/from any SMS number, email address or another ZOLEO app user, and supports 2-way global SOS alerting, easy check-in, on-demand weather forecasts, location sharing and more. Keep your employees safe and connected with ZOLEO.
Count on ZOLEO for Seamless
Connectivity at Work
Only ZOLEO provides global messaging coverage that follows users into the remote field and back. That's because ZOLEO transmits messages via the Iridium® satellite network, mobile and Wi-Fi, with automatic delivery over the lowest-cost network available. Plus ZOLEO provides users with a dedicated number and email address to share with their contacts, making it easy to send messages from a phone or tablet!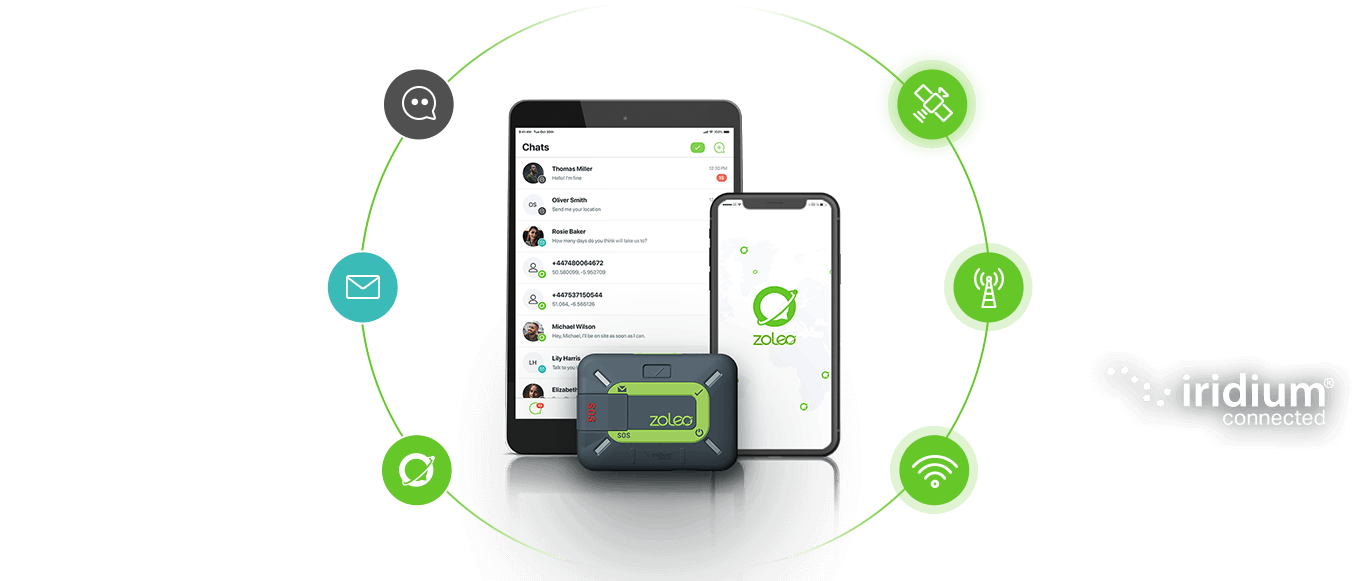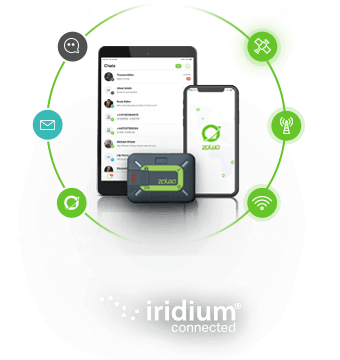 Connect to ZOLEO and Create Something Amazing
Imagine the possibilities! Use ZOLEO Data Feeds to push your organization's ZOLEO user-generated location data to an enterprise server.
Learn More
Connect to ZOLEO and Create Something Amazing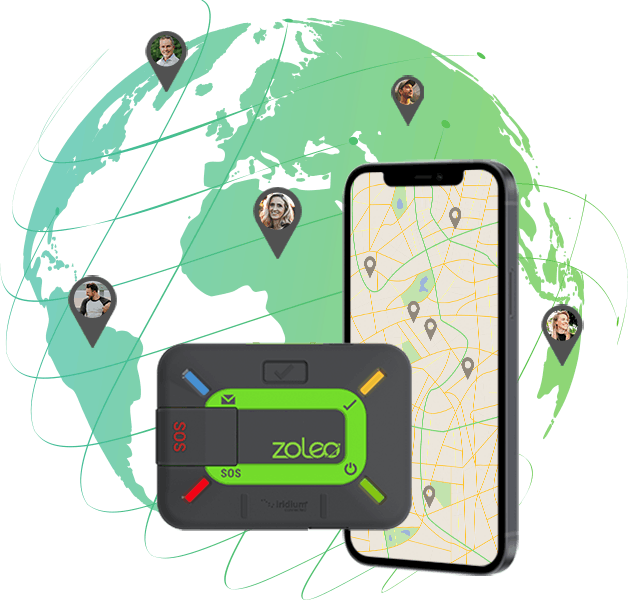 Standalone Safety Features
Added peace of mind for you and employees
Added peace of mind for you and employees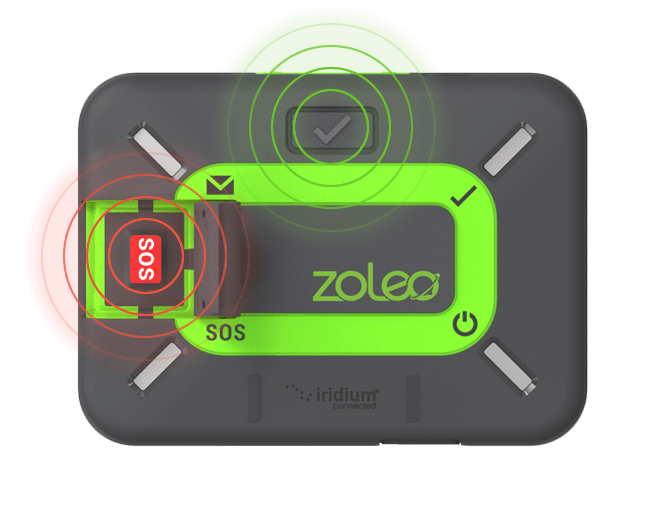 SOS Button
Get help if something goes wrong. Rest assured that the user's SOS and GPS coordinates will be sent to our expert 24/7 emergency response coordination partner. They'll confirm their SOS was received and dispatch help. Users can also cancel an SOS if it was a false alarm.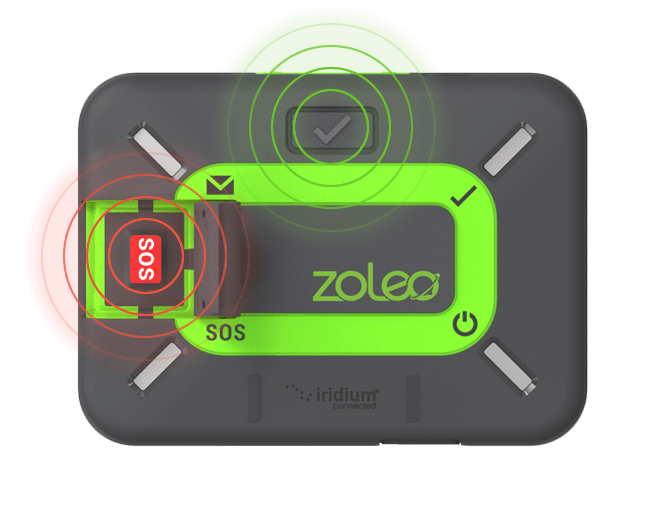 Use the ZOLEO App to exchange messages with our expert emergency response coordination partner throughout the incident.
Check-in Button
Let supervisors know you're OK. Simply tap the built-in button on the device or check in via the ZOLEO app. Users' check-in message can also include their GPS coordinates if desired.
Share Your Location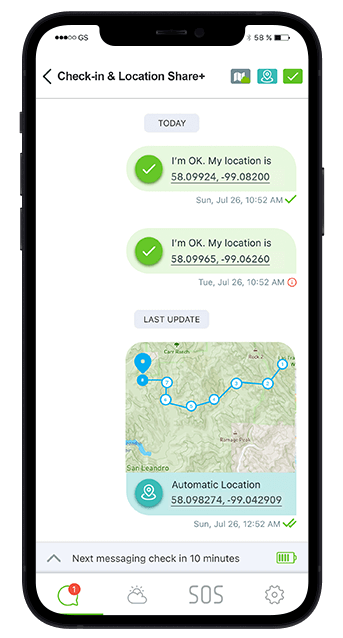 Let others know where you are with these standard features:
Share your GPS coordinates in a message
Automatically include your GPS coordinates with check-in messages (optional)
Location Share+ (add-on subscription)
Location Share+ enables ZOLEO users to share their location with their check-in contacts, on a user-selected interval from every 6 minutes to 4 hours. ZOLEO users and check-in recipients will be able to use the free ZOLEO app to view the current location and breadcrumb trail on a map. ZOLEO users can start/stop location sharing any time, and also download maps for use offline. Location Share+ is an optional add-on subscription* that includes unlimited location share messages.
*Note: Additional charges apply; can be cancelled any time.
Get Weather Forecasts
Get Weather Forecasts for Any Location
AerisWeather™ is among the only weather applications to provide highly accurate, hyperlocal forecasts for any location within 100 meters of spatial resolution. Available to all subscribers via the free ZOLEO app, its insights help users plan their work or travel in the remote field, or seek shelter when needed. (Transmitted over the Iridium satellite network.)
Each forecast includes:
Current conditions: current and apparent temperature, wind speed, wind bearing, visibility, UV index

Hourly forecasts for 44 hours*: conditions, temperature, wind speed, wind bearing, expected precipitation (% and millimeters), type of precipitation

Daily forecasts for 5 days: conditions, temperature (daily high/low), sunrise, sunset, expected precipitation (% and millimeters), type of precipitation
*Provided for the next 14 hours in 2-hour increments, and for the next 30 hours in 6-hour increments.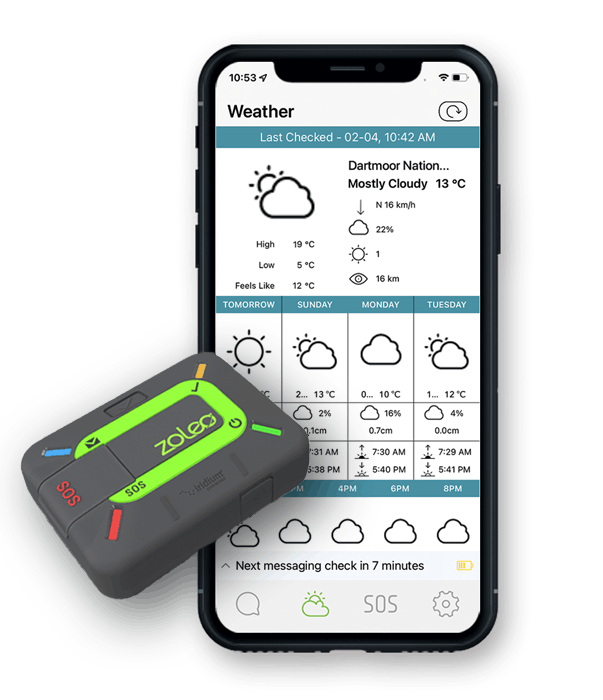 Pain-Free Set up and Deployment
Whether used as a personal device or within a pool shared by employees, ZOLEO is quick to deploy and easy to administer. Employees simply download our free mobile app, use it to connect to the ZOLEO device via Bluetooth and start messaging.
Admins have convenient online accounts to activate, change or suspend ZOLEO subscriptions, and budgetary controls to manage usage. Plus, firmware updates can be easily completed over the air (OTA) via mobile or Wi-Fi networks.
How to Activate
We're Here to Help
If you have questions, please inquire and a representative of Beam Communications will respond within one (1) business day. (Beam Communications is ZOLEO Inc's Master Distributor in APAC.)