ZOLEO Global Satellite Communicator
On Sale Now!
€249.00EUR
€199.00EUR
VAT included
SKU: ZL1000
The Iridium® based ZOLEO Global Satellite Communicator offers everything you need to stay connected and secure when venturing beyond mobile coverage. With ZOLEO, you'll enjoy seamless global messaging that follows you in/out of mobile network coverage, and a personal safety system you can count on world-wide. Simply connect the lightweight, durable ZOLEO device with the free app on your phone or tablet to enjoy: Two-way global messaging and SOS alerting, check-in, AerisWeather™ forecasts, the ability to share your GPS location, and more.
What makes ZOLEO a better global messaging solution, is that it seamlessly transmits messages via the Iridium satellite network when you travel beyond mobile coverage, and via mobile network or Wi-Fi® when it is available. With ZOLEO you'll never miss an important message again!
The lightweight ZOLEO device features a long-lasting battery and durable, dust- and water-resistant design. Safety features like built-in SOS alerting and check-in buttons can be used standalone from the device, or via the free ZOLEO App. Together with the free app ZOLEO offers a familiar texting experience from your phone or tablet and great value for your dollar. Compatible accessories allow it to be secured on a backpack, belt, or in a vehicle, vessel, or cabin, so you can rely on it wherever you go.
ZOLEO is a perfect connectivity solution for anyone that lives, works or plays on the fringe of mobile coverage – use it to enjoy coverage everywhere, lowest-cost message routing and a familiar 'text' messaging experience from your phone or tablet.
Highlights:
Iridium Connected™ for messaging coverage everywhere on Earth
Dedicated SMS number and email address (sharable, recognizable)
SOS alerting button with 24/7 monitoring and dispatch included*
Check-in button to let others know you're OK*

Includes 24/7 access to non

-

emergency medical advice

via Medical Assist

Free app for phones/tablets supports: Two-way messaging, Two-way SOS alerting, check in, weather forecasts, location sharing and more (the app also transmits via mobile network and Wi-Fi when available)
200 hours of battery life, checking messages every 12 min.
Shock-resistant, dust- and water-resistant (IP68, MIL-STD 810G)
Subscription required (sold separately, visit

 

ZOLEO Plans)
2-Year Manufacturer's Warranty
*Requires an active ZOLEO service plan to transmit messages or SOS alerts.
Availability:
FREE Shipping - Usually delivered within 1-2 Business Days (*) for some EU countries delivery may take slightly longer.
*Deliveries to: Cyprus, Iceland, Ireland, Lichtenstein, Malta, Norway, and Switzerland require a shipping charge and will be calculated at checkout.
how it works
How ZOLEO Works
Say Goodbye to Coverage Gaps!
ZOLEO sends and receives messages via the Iridium global satellite network when you're outside of cellular coverage.
And seamlessly sends and receives messages via cellular or Wi-Fi when its available. You'll never miss a message even if your ZOLEO device isn't on!
Mobile App
Mobile App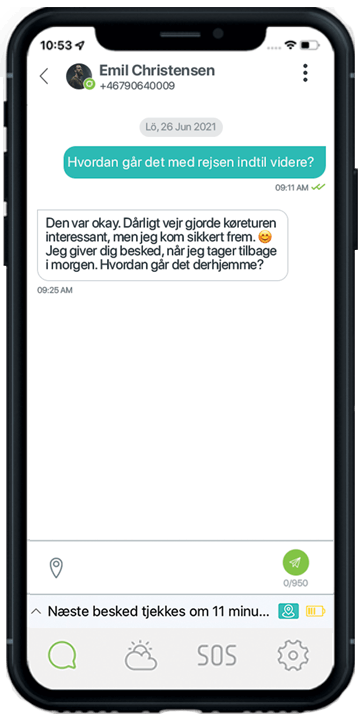 Global two-way messaging (text/SMS, email and app-to-app)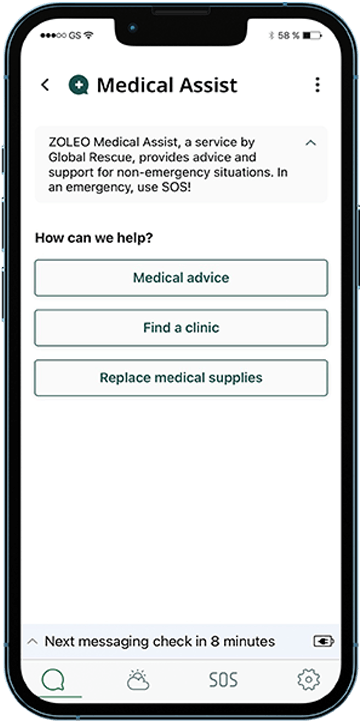 Medical Assist, 24/7 access to non-emergency medical advice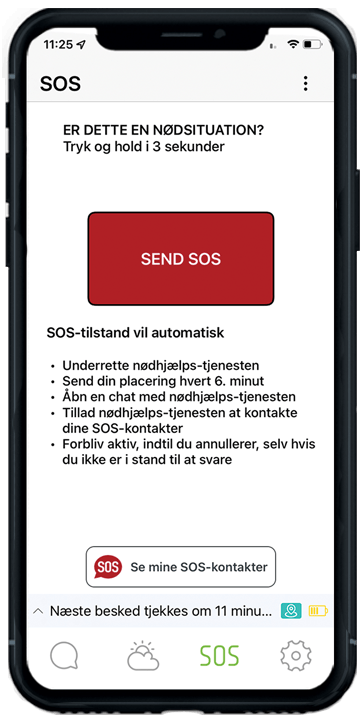 Global two-way SOS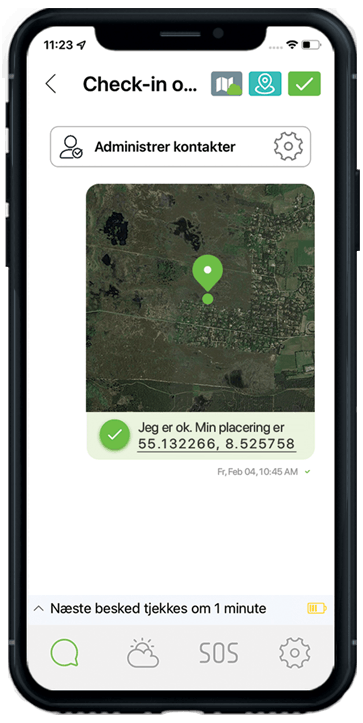 Check-in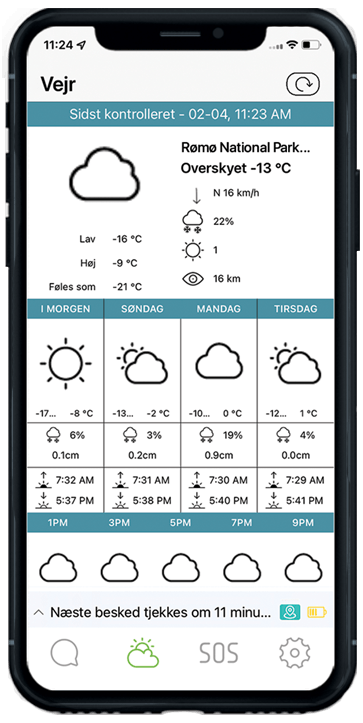 On-demand accurate weather forecasts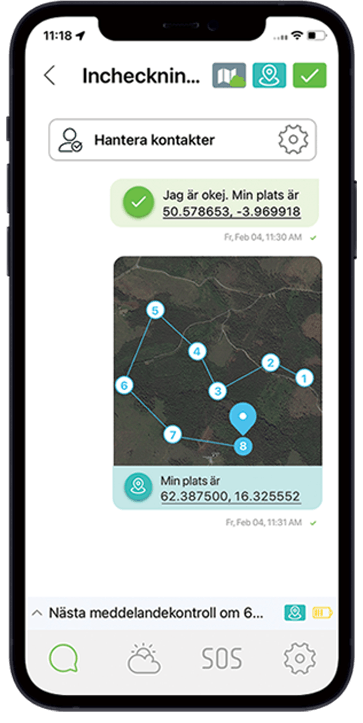 Share location in every message
The free campanion app offers access to all the awesome global messaging and safety features offered by ZOLEO. And it's easy to use!
Tip: Invite key contacts to use the app to message you app-to-app and enjoy long message of 900+ characters and you'll get their messages even if your ZOLEO communicators is turned off. (Contacts don't need to own a ZOLEO device to message you via the ZOLEO App.)
Features & Specs
Technical Specifications
Transmits via the Iridium satellite network (and via cellular and Wi-Fi when available)
Weight: 150g (5.3 oz)
Size (L x W x D): 9.1 x 6.6 x 2.7 cm (3.58 x 2.6 x 1.06 in)
Operating temperature: -20°C to 55°C (-4°F to 131°F)
Charging temperature: 0°C to 45°C (32°F to 113°F)
Internal rechargeable Lithium-Ion battery
Battery life: 200+hours checking messages every 12 minutes
Battery charging time: 2 hours using 1.5 A charge
IP68: dust-and water-resistant (to 1.5 m (4.9 ft) for 30 min.)
MIL-STD 810G: shock-resistant
Built-in check-in button*
Built-in SOS alerting button (covered to prevent false alarms, also cancellable)*
Power connector: Micro-USB Type B
Audible alerts for messages
LEDs for: messages, SOS, check-in, and power
Connects via Bluetooth LE 4.1 (one connection at a time; range of up to 50 m (164 ft))
Location aware, GPS accuracy: 2.5 m (8.2 ft) under ideal conditions
Requires a monthly airtime plan (sold separately, get ZOLEO Plan details)
*Note: SOS and check-in buttons work standalone or via the ZOLEO app.
Brochure
ZOLEO Brochure - English
Location Share+
Share Your Location
Let others know where you are with these standard features:
Share your GPS coordinates in a message
Automatically include your GPS coordinates with check-in messages (optional)
Location Share+ (add-on subscription)
Location Share+ enables ZOLEO users to share their location with their check-in contacts, on a user-selected interval from every 6 minutes to 4 hours. ZOLEO users and check-in recipients will be able to use the free ZOLEO app to view the current location and breadcrumb trail on a map. ZOLEO users can start/stop location sharing any time, and also download maps for use offline. Location Share+ is an optional add-on subscription* that includes unlimited location share messages.
*Note: Additional charges apply; can be cancelled any time.
Share Your Location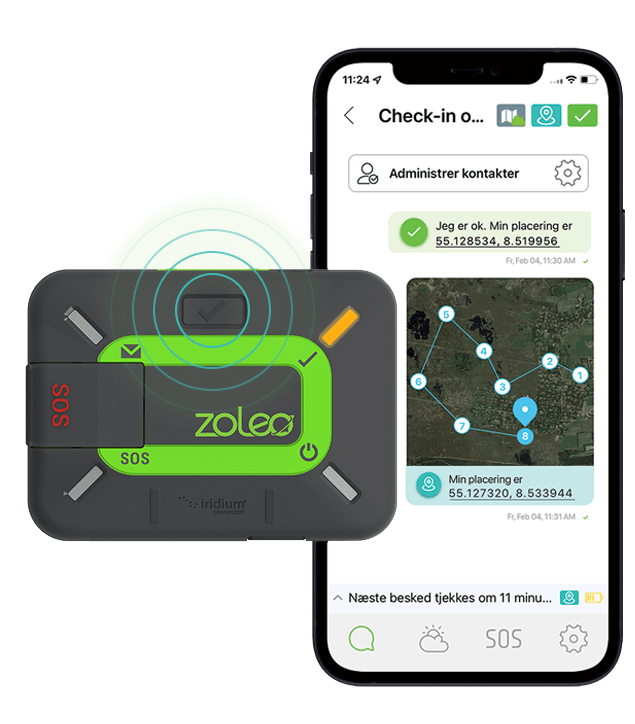 SOS Monitoring
SOS - 24/7 Help When and Where You Need It!
Rest assured in an emergency. When you trigger an SOS alert it is sent to Global Rescue, the professional 24/7 emergency monitoring service that's included with ZOLEO. You'll know that your emergency alert was received and that Global Rescue knows your GPS coordinates and is dispatching assistance. And if your situation changes, your SOS can be easily canceled.
NOTE: ZOLEO also includes Medical Assist, a convenient 24/7 chat service for non-emergency medical advice
SOS - 24/7 Help When and Where You Need It!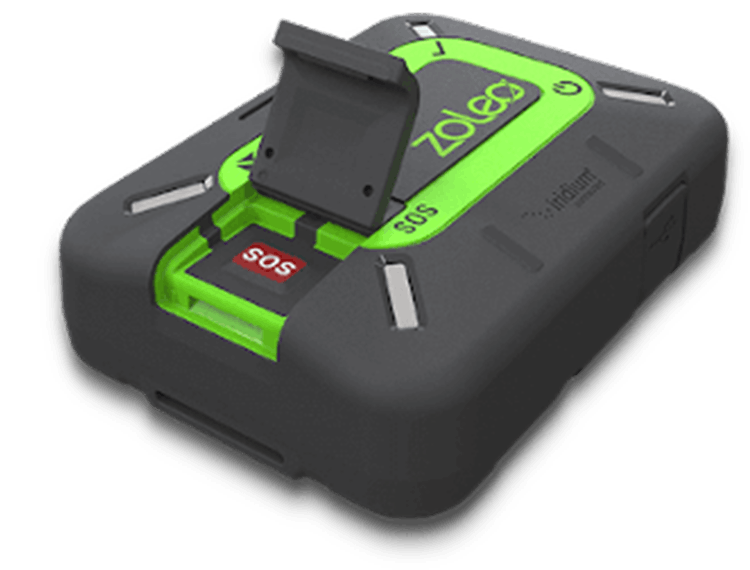 What's In The Box
What's in the Box
ZOLEO Satellite Communicator Device
Lanyard
Carabiner
USB cable, 50 cm (20 in)
Quick Start Guide
2-Year Warranty